Friday is a great day. Most of us are looking forward to the end of the week, and all the great things that the weekend brings us. Like not working. This Friday, however, wasn't just any ordinary Friday. It was Force Friday.
An awesome Force Friday.
We didn't get to see a new trailer, but that's OK. I'm sure they're saving it for a good time. For now I'm going to focus on what we did get to see.
The toys released by Disney are probably the best insights into the new movies that we've seen yet. They are above and beyond anything that we saw for Episode 7, and we still haven't even seen the 2nd trailer yet. Here are the 3 that I found most interesting:
Supreme Leader Snoke
I am not sure why Snoke has that gold robe on, but I like it. Hats off to whoever thought of this. Deviating from the standard black attire and going with something less streamlined was a great call. I also like this toy, because I think there's one thing we can all gather by looking at it; there will be a similar duel scene to that of the other movies where Snoke spectates a duel between a Jedi and a Sith. It makes my imagination run wild. Will Rey turn to the Dark Side? Will Ben come back to the Light Side? The anticipation is already killing me!
BB-9E (BB-8's Evil Twin)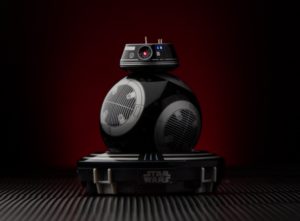 Some of the numbers that I've seen suggest that BB-8 was one of the top selling characters (as far as toys and merchandise go) from the last movie. It would make sense that the people over at Disney would capitalize on that, and offer a counterpart. I really like this idea, because in the past movies, the two main droids complimented one another. The person that thought about this is a genius. What a wonderful twist to mix things up, and make the two main droids enemies. He looks like a cross between BB-8 and the Imperial probe droids that we are used to from Empire Strikes Back on Hoth. I  hope that he makes the same (or similar) noise when he moves. Maybe he'll even turn to the light side. The possibilities with this one are endless.
These are not the droids you are looking for.
Luke Skywalker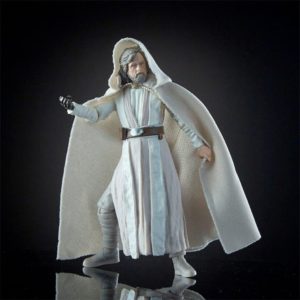 When I first saw this toy, it didn't really seem significant to me. It's just Luke, in normal Jedi attire. It resembles very closely what he was wearing at the end of Episode 7. I didn't realize it's significance until I saw the most recent cover of Cinemánia Mozimánia. It features a dark, and focused looking Luke Skywalker on the cover of the issue:
These very different appearances make me believe that Luke goes through a major transformation in the movie. I've already speculated what I think is going to happen in this post (warning: major spoilers could be in here if I'm right). Disney did a great job with the toys they released this year, because they give us a wonderful glimpse into our own imaginations, and what may or may not come. If you want to see more of the toys that they released, I suggest checking out slashfilm.com.